2nd October 2023
Lost your keys again?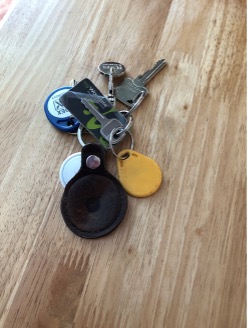 Kaen Wilson – Member
If you have ever lost your keys, you'll know this can waste time as you frantically search for them and it can be frustrating. This is particularly true when you are about to leave the home and being unable to do so. The Air tag is a fantastic solution to this problem.
The Apple Air tag fits within a snug keyring holder and can be attached to your keys or bag. The Air tag is an electronic disc, the size of a 10 pence coin. It connects via Bluetooth to your iPhone and allows you to find your keys by emitting a signal, whether they are inside your house or lost in a more remote location. Using the Find My app on your iphone it will tell you where it is located using a map or emitting a brief beeping sound from the Air tag. This allows it to be easily and quickly found with less stress.
The Apple Air tag costs £35 or less from your local Apple Store or online supplier. There are a number of keyring holders for the Air tag which can be purchased costing as little as £4 depending on which material it is constructed from. I bought a genuine leather holder for £8 from amazon.com, which was delivered to my door.
The set up is easy. Simply take the Air tag from the packaging and remove the plastic filmcover. The Air tag holder is unwrapped and unclipped then slide the Air tag into the holder and clip it in place. After ensuring that Bluetooth is turned on your iPhone ( Settings app on phone), the Air tag is brought close to active it. This takes you through a series of questions to name the Airtag item and link it to your Apple account. Now , you're ready to leave your keys anywhere!