Meet the team
We are very lucky to have a fantastic team at the Samson Centre made up of staff, volunteers and trustees, all committed to providing the best possible facilities and care for anyone affected by MS.
Trustees
As a charity, we are governed by a Board of Trustees who ensure that the money we raise is used in the best possible way and also that we are doing all we can to reach and help as many people as we can that need our support.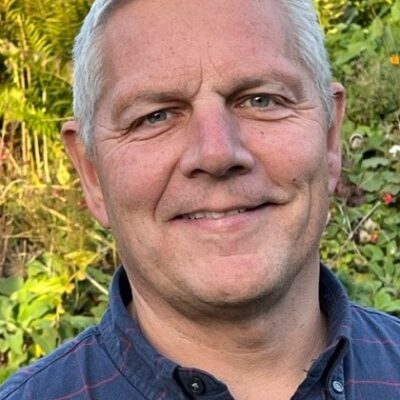 Gavin Crocker
Chair
Gavin runs his own small company as a head-hunter. Having set up businesses in the UK, Australia and New Zealand Gavin enjoys working from home in Surrey without the pressures of commuting and managing large teams in different time zones.
Working locally has given him the chance to be more involved in the community and he was a governor of a local school for four years. This gave him a good insight into improving services with ever increasing costs and reducing public sector finance.
Gavin had stem cell therapy in Mexico in 2020 for primary progressive MS. He has had first-hand experience of different approaches to stopping MS. He is a regular user of the Samson Centre, particularly training at the gym because he has found staying fit reduces the neurological effects of MS.
He has found that stress makes his walking worse. The optimistic support the centre offers contributes to overall wellness. Hope may not be a strategy but it helps him walk! He aims to walk normally and one day to start running again. "You can't do that" and "it won't work for MS" make him even more determined to find ways to make it happen.
Gavin has a degree in Chemistry and qualified as a Barrister.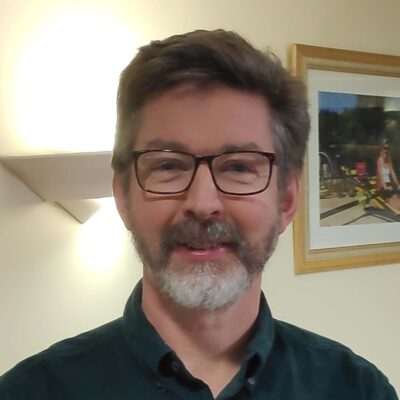 Robin Kendall
Trustee
Chair (since Sept 2019)
Trustee (since Jan 2019)
Robin retired from a career in energy and natural resources sector banking to concentrate on the important things in life, including travel, fly fishing, yoga, football and volunteering.
He has lived extensively overseas, including the Netherlands, Belgium, France, India and the US, which taught him that there are often many ways of getting something done.
He was previously a trustee of a pension fund and volunteer for the Samson Centre. He has a law degree from the University of London and an MBA from Manchester Business School.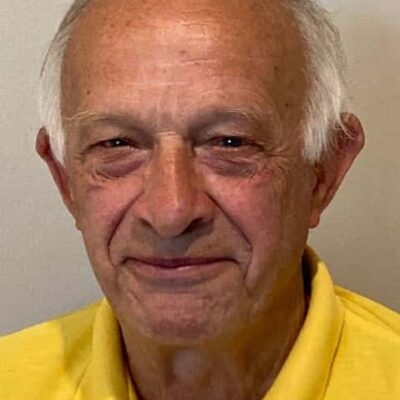 David Kitching
Vice-Chair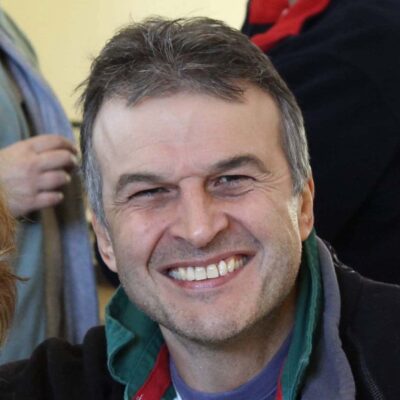 John Hambly OBE
Trustee
Founding Trustee of the Samson Centre for MS. Chairman and fundraiser from 2003-9. Vice Chairman 2009-present
Vice Chair of the Guildford Waterside Centre from 2006-19
Attained a degree in Building Surveying in 1983. Worked in private practice, becoming a Partner at Scott Godwin Associates from 1993 until retirement through ill health in 2007.
Diagnosed with MS in 1999 which curtailed a 25 year rugby playing 'career'. Coach and Captain of Actonians RFC from 1988-1993.
Member of St John's Milford PCC from 2013-present, including the role of church governor at Chandler School, Witley.
Awarded an OBE for Services to People with Disabilities in the 2021 New Year's Honours List
Married with four daughters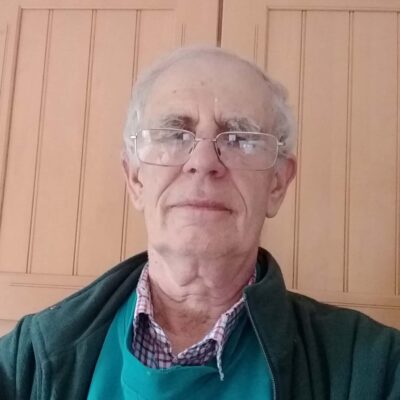 Colin Griffin
Trustee
I am the carer for my wife who has been a member at the wonderful Samson Centre for over 10 years. We have 4 children and 7 grandchildren. We have lived in Guildford for over 30 years and are involved in a number of charities and community activities connected with schools and churches, including being a school governor, chair of trustees of a mental health drop in centre, and a trustee of an organisation providing practical support to families living through hard times. I have a Maths degree and have enjoyed many overseas holidays, including cruising.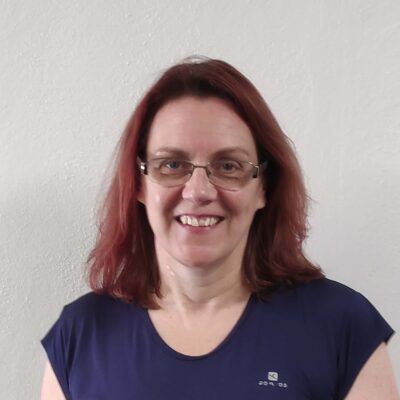 Hilary Birkinshaw
Treasurer
Hilary is a qualified Management Accountant (ACMA) with over 25 years financial and management experience in large multinational companies. Her current role is Finance Business Partner for the Central Functions of Merlin Entertainments but her experience with the company includes the challenge of setting up and managing their charity activities, supporting children facing adversity. Having MS herself she is both a Trustee and a user of the therapies Samson Centre offers. A keen sports enthusiast she credits Samson Centre with keeping her as mobile and fit as possible but also with introductions to adaptive rowing and watersking which she regularly participates in. This in turn led her to 4 years as a trustee of the British Disbaled Waterski and Wakeboard Association.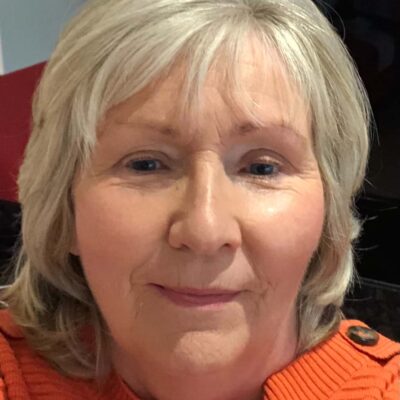 Liz Darke
Trustee
Liz has an emotional link to the Samson Centre as she was a close friend of one of the founding members and watched her battle with multiple sclerosis for over 15 years. Liz became a trustee of the Centre in July 2014. A born organiser, Liz has personally raised over £17,000 for the Centre since its inception. Before having two children, Liz was an account manager at a leading sports event management agency, focussing particularly on athletics, international ice skating and hockey. Prior to that, she worked in the public relations and advertising industry in South Africa. Since 2001, Liz has run her own direct selling greeting card business from home which has enabled her to work around family commitments. Liz is a big sports enthusiast and over the years has participated in horse riding, hockey, tennis, skiing and golf. Her current aim is to reduce her golf handicap!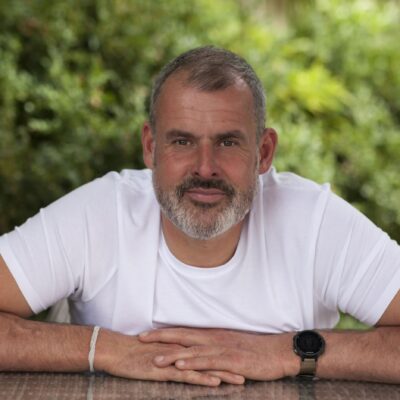 Tim Lodge
Trustee
Tim is a Paralympic canoeist based at the Wey Kayak Club. He also runs a business consultancy and a wellbeing business where he delivers programs and workshops on change, transformation and mental and physical wellbeing. Being born with a disability and becoming an athlete in his 40's after a successful career in the city spanning 25 years has given Tim great insight to the power of sport and movement to improve physical limitations. The Samson Centre has always impressed and inspired Tim that with the right support and people sharing their stories anything is possible. It's now time for him to be a trustee of the charity and help them to grow to support more people in the future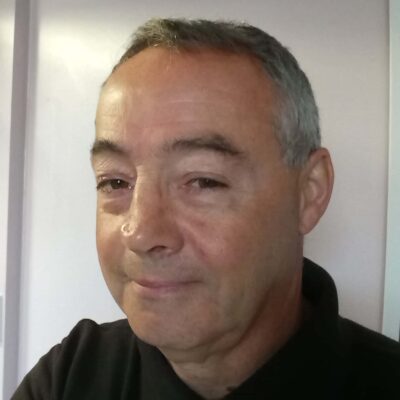 Duncan Howe
Trustee / Lead Oxygen Therapy Operator
I have been involved with the Samson Centre right from the beginning. Being a member of Guildford Sub-Aqua Club who use the Waterside as their club house and boatshed I wanted to give something back. So I became an Oxygen operator , learning to become a 2nd and then a Lead Operator. I now carry out the practical training of new Oxygen volunteers.
I have been self employed for the last 15 years running my own driving school that specialises in trailer training, D1 Minibus & D1E Minibus and trailer categories.
My passion is Scuba diving and I have dived all over the world – from Bognor reef, Scapa Flow, Ice diving in Russia, The Great Barrier reef, Indonesia, Galapagos Islands and Selsey Bill.
Staff
The staff at the Samson Centre are passionate about their jobs and the support they provide. Our specialist physiotherapists, rehabilitation assistants and gym instructors really understand the nuances of MS and are all on hand to support you on your MS journey.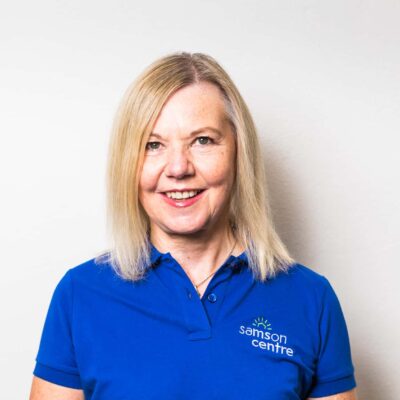 Caroline O'Flanagan
Oxygen Therapy Coordinator
Caroline started her career as a computer programmer in Bristol, London and Amsterdam. She later moved to a family timber importing business where she introduced computers and ran the payroll. After retiring in 2015, Caroline joined the Samson Centre initially as an oxygen volunteer, covering the office whilst Jackie was on holiday. She now works two days a week as Oxygen Therapy Coordinator. She enjoys being active – bootcamp, Pilates and walking with her two dogs and with friends. She also enjoys cooking and reading. She is married with two children – Tom who works in London and Imogen who is studying Product Design at Sussex University.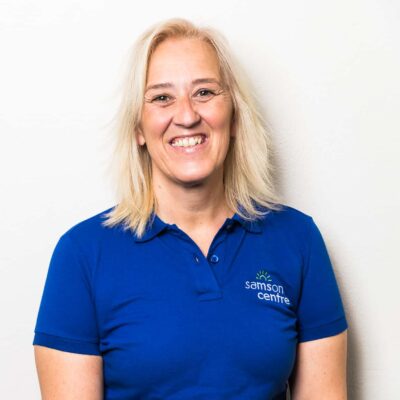 Julia McDonald
Oxygen Therapy Coordinator
Julia joined the Samson Centre in March 2021 and is delighted she did. What a wonderful place to be involved with. After 16 years of full-time employment, mainly in television production, Julia became a stay-at-home mum to her two boys.  They are now teenagers and no longer require her around quite so much!   A homebody, Julia likes spending time with her family, walking, watching films, reading and trying to be a gardener!  During the winter months she helps out at the local ski centre as an instructor.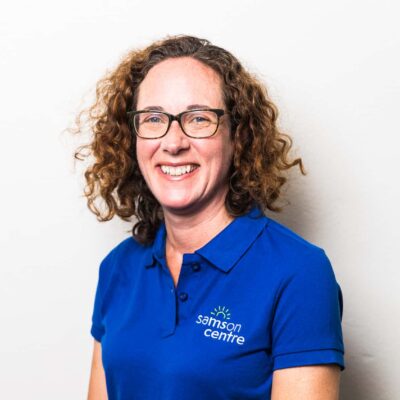 Sara McGowan
Lead Physio
Sara joined the team at the Samson Centre in 2015 and has been the lead physio now for 4 years.  Sara specialised in neurology and rehab early on in her career and has had a variety of different jobs in hospitals, as a community physiotherapist and in higher education teaching physiotherapy students. When not at work, Sara likes to keep active by walking the dog in the lovely Surrey Hills. She is a certified Pilates Instructor and also practices yoga, both of which are often incorporated into her physiotherapy practice.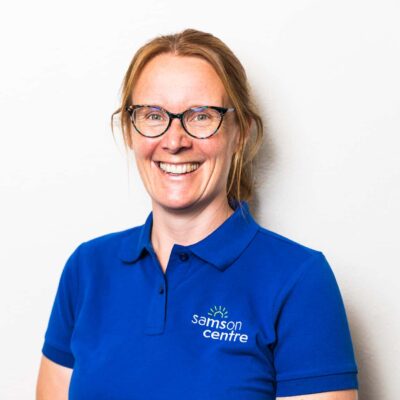 Vicky Bassett
Deputy Lead Physio
Vicky joined the Samson Centre in 2017 as Deputy Lead Physiotherapist.  She has specialised in working with people with neurological conditions for over 15 years, across hospital and community settings and enjoys problem solving and finding innovative ways to motivate people to engage in therapy.  Outside of work Vicky is frequently found looking after and riding her horse, walking her dog, and spending time with her husband and daughter.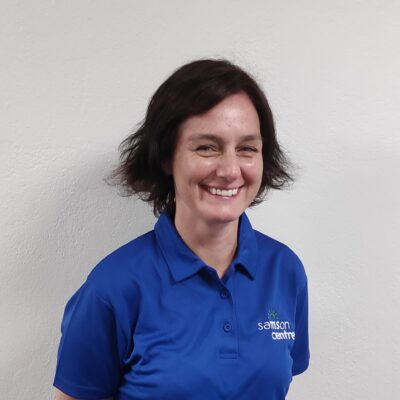 Maria Garcia
Physio
Maria joined the Samson Centre in May 2021 having previously worked as a Neuro Physiotherapist across Community, NHS and private settings for over 15 years.  Maria enjoys exercise based therapy, encouraging people to incorporate exercise into their daily life.   Outside of work, between her 3 children's activities, Maria enjoys being in Swinley Forest, walking or running or going to bootcamps.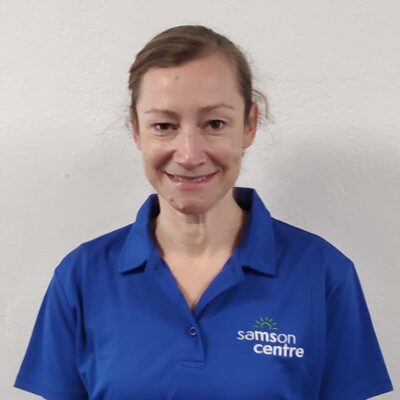 Emma Roussel
Physio
Emma has worked as a physiotherapist for over ten years in hospital, rehabilitation and community settings both in the UK and overseas. Throughout her career she has followed her interest in working with people with neurological conditions. She has three young children who keep her busy outside work, but also likes to find time to keep active through walking, yoga and badminton, to explore new places whenever possible, and to enjoy quiet moments whilst gardening or baking.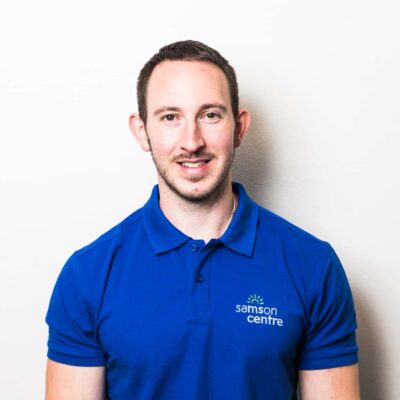 Mike Chalmers
Gym Instructor
Mike joined the Samson Centre in 2014 as a gym instructor after graduating with a BSc Hons degree in Sports Science. He has experience working within a commercial gym delivering personal training sessions and classes to a whole range of people, conducting educational rehabilitation sessions for hip and knee osteoarthritis and mental health. He also operates his own self-employed business as a home personal trainer when he is not working for the Samson Centre.
Recently Mike has become a very proud Father to his daughter Arabella who he adores. In his spare time Mike practices what he preaches and regularly attends the gym to keep fit and healthy, enjoys researching health and wellness related topics, spending time with family and friends, cooking and listening to music.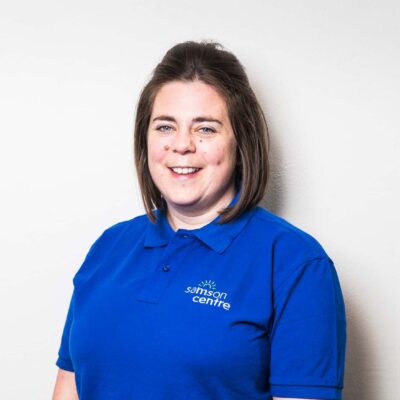 Rachel Tasker
Gym Instructor
Rachel joined the Samson Centre late August 2018 and has worked part time with us ever since. Rachel is a qualified personal trainer with a personal interest in rowing and Olympic-style Weightlifting. Rachel has previously worked at the Nuffield Health gym in Guildford and has vast experience working with a wide range of individuals. Her special gift is finding the 'can do' in most situations and being a part of the friendly supportive team here at the centre.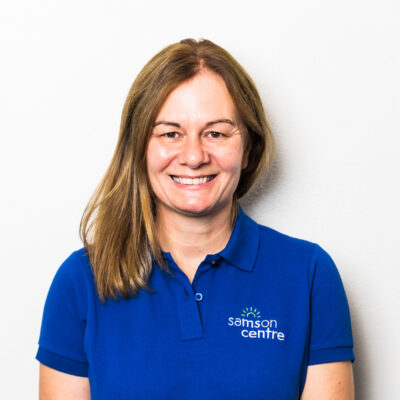 Alison Clayton
Rehab Assistant
Alison first joined the Samson Centre in 2012 as an Oxygen volunteer, having spent many years as a teacher and a few more at home with her three children.  This was such a positive experience that it helped inspire Alison to retrain to work in a healthcare / rehabilitation setting. She attained a Diploma in 2014, followed by several qualifications from St. Mary's University including Sports massage, dry needling and several other soft tissue therapies. She joined the Samson Centre as a Rehabilitation  Assistant in 2017. Since then she has studied Strength and balance courses, and Tai chi for rehabilitation. Outside of the Centre Alison enjoys running, horse riding, travelling and learning Spanish.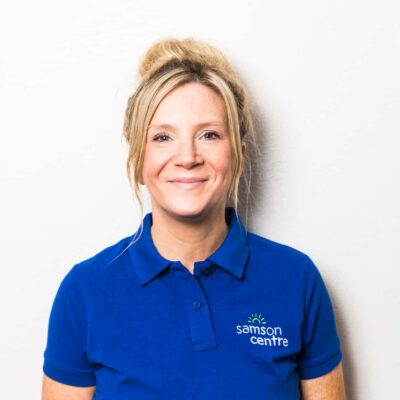 Davinia Simpson
Rehab Assistant
Davinia joined the Samson team in September 2019 as a Rehabilitation Assistant. She has two children and a dog called Rusty who she enjoys long walks with regularly. Davinia has a background in Health, Nutrition and fitness. In 2017 Davinia won a Beacon of hope award for her charity fund raising for the National Lymphoma Society.She has most recently qualified as a Gym instructor and is a keen fitness enthusiast.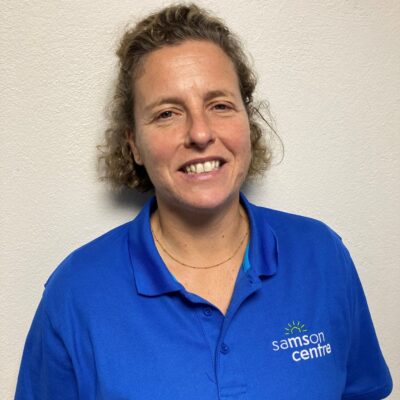 Claire Marks
Rehab Assistant
Claire first joined the Samson Centre in 2020 as an oxygen volunteer and has recently taken on the role of rehab assistant in the main physio department.  Claire used to work in the sports event and hospitality industry but now that her children are a bit older (16 & 14), she has decided to focus on her passion of exercise and rehabilitation.  She has a Sport Science degree from Birmingham Uni and has recently qualified as a Level 2 gym instructor and is enjoying supporting MS clients, helping them to keep moving and be the best they can be.  Claire loves exercising and being in the outdoors – if she isn't walking her young Labrador Ralph, she can be found playing tennis, running or out on her mountain bike.
Claire previously volunteered at the Fountain Centre based in the Cancer centre at the Royal Surrey and also keeps busy helping the school PTA and Godalming Swimming Club where her daughter swims.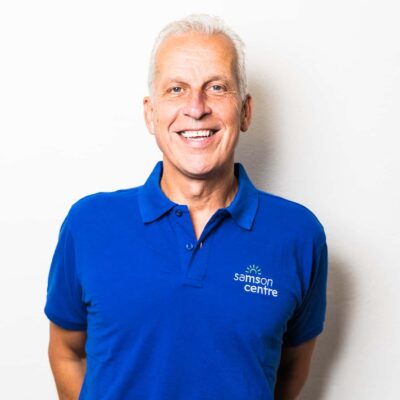 Paul Dimmock
Fundraiser
Paul, has been involved with the Waterside Centre since 2002, assisting the management team to secure the capital funding for the original  building. He is an active member and coach of the Wey Kayak Club. 
In April 2020, Paul began supporting the Samson Centre part time securing external funding and increasing awareness with public agencies and securing long term private sector partnerships. In addition to his fundraising activities, Paul combines his Kayak Coaching skills to support the growing group of Samson Centre enthusiasts with the Thursday "Samson Kayak Ergo" session.
Paul has supported a range of organisations, securing funding in the University and Local Government sectors, his funding efforts have assisted with both capital and revenue projects to promote the sport and physical activity agendas. Paul has been a Trustee of the London Sport Forum for Disabled People and closer to home with Active Surrey.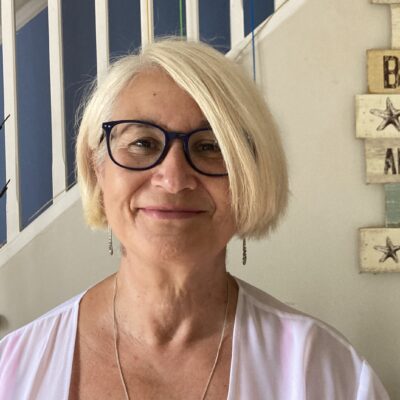 Debbie Boulter
Centre Manager
Debbie is joining the team as of 4 September 2023 .
She has spent the last 22 years working in the charity sector and is driven by supporting amazing causes.
In her spare time she enjoys the outdoors walking her dog and spending time with her family.
She has a passion for crazy challenges and is always looking for something new to try.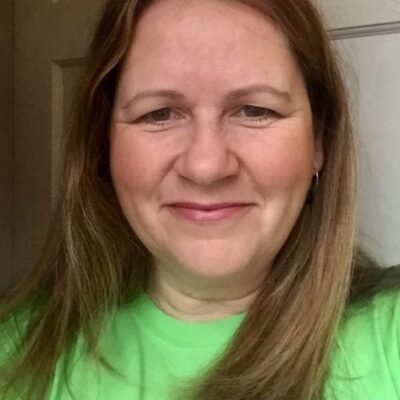 Sarah Holburn
Counsellor
I'm Sarah Holburn, a registered counsellor. I am very pleased to be working alongside The Samson Centre to offer service users and their relatives counselling sessions. I have worked with a wide range of clients in a variety of counselling settings including the Royal Surrey County Hospital, NHS Trusts, educational facilities and within charities such as Momentum and Victim Support. I look forward to meeting more of you.
(Sarah comes to the Centre on Mondays to run her individual counselling sessions).
Volunteers
We have a wonderful team of volunteers who give up their time to support the Samson Centre. Our volunteers have a diverse range of skills to share that make a huge difference to the running of the Centre. Their dedication and gift of time is invaluable to us. We really couldn't do it without them!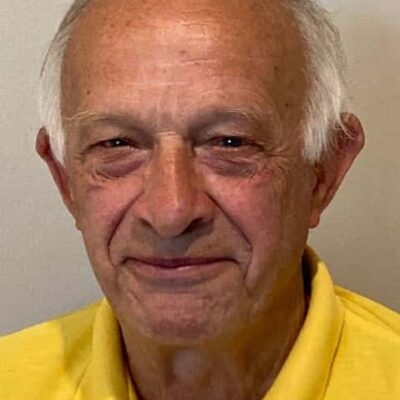 David Kitching
Maintenance & Gardening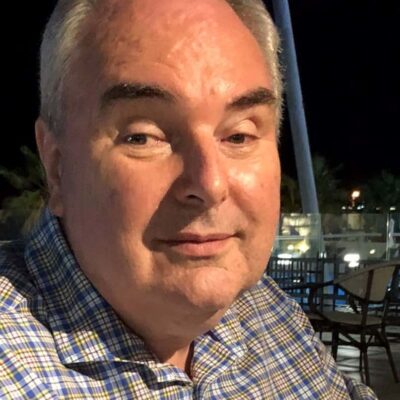 Nigel Stride
Social Media
Nigel graduated from London University in 1972 with a degree in Physics and spent the next few years working for an electronics company specialising in supplying specialist high tech semiconductors to industry. In 1978, following the introduction of the first microprocessor chips, he and his business partner formed their own specialist company designing and selling one of the first personal computers. Diagnosed with MS in 1997 and finally retiring from the business after 31 years in 2009. Nigel has been using the Samson Centre for over 10 years and is both a member and a volunteer.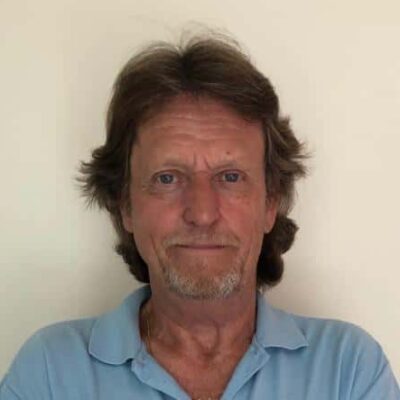 Chris McCann
Oxygen operator
Chris joined the Samson Centre in September 2014, after experiencing a life changing medical condition in 2011.  Since taking on the role of oxygen-operator, he has worked with many of our members and tells us how fulfilling it is to be helping others less fortunate.  He feels it is rewarding to be giving something back, after the medical support he received when he most needed it.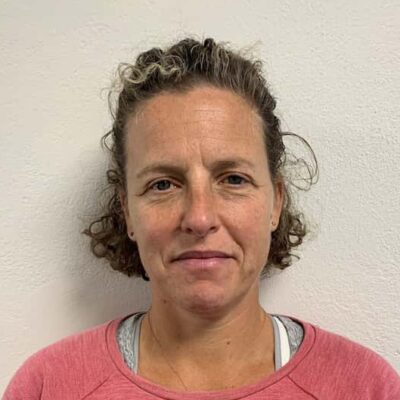 Claire Marks
Oxygen operator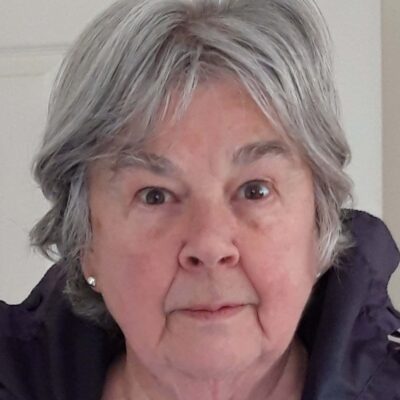 Annie Stevinson
Lead Oxygen Therapy Operator
I have been involved with this group for about 30 years, as my late husband had long standing MS, and hope that my experience with this condition can now help others.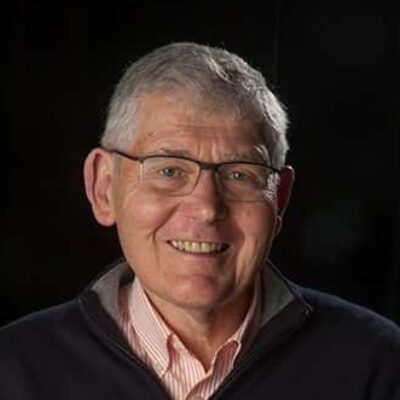 Graham Windsor
Lead Oxygen Therapy Operator
Graham is married to Jennie. They have two daughters and four grandchildren, and moved to Guildford 4 years ago to live near their family.
He is a retired Civil Engineer. His career allowed the family to travel and they enjoyed a memorable six years in Dubai and Baghdad.
Graham is a member of the PCC at his local church, took up the ukulele during lockdown and enjoys D.I.Y.
He feels privileged to be part of the Samson Centre team.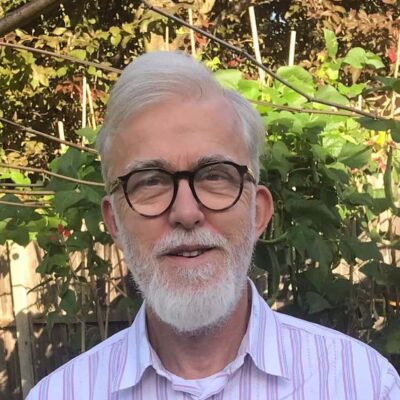 John Steynor
Lead Oxygen Therapy Operator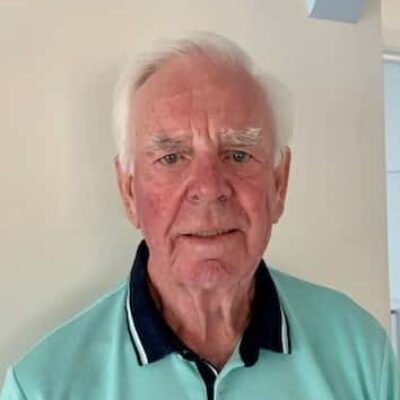 Cyril Lafferty
Lead Oxygen Therapy Operator
In his career in the Royal Navy, Cyril specialised as a Clearance Diving Officer. His principal duty was dealing him with underwater bomb and mine disposal, but he also became involved in experimental deep diving research and operations in both the Royal Navy and the US Navy.
As a result he worked with specialist Doctors which led him to take an interest in the use of Oxygen as a medicine. Both he and other members of his family have benefited from the use of Oxygen Therapy to overcome cancer and other serious diseases and he now is determined to help others to also benefit from the use of Baric Oxygen Therapy.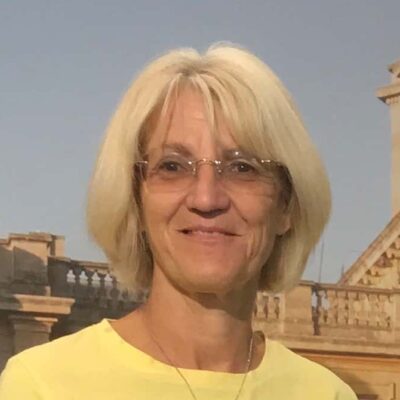 Pam Davies
Oxygen operator
I became involved with the Samson Centre 3 years ago and have thoroughly enjoyed being part of the team. My husband has weekly sessions here in the gym, kayaking and Zoom classes . Other than family life, 3 sons and 6 grandchildren, my main interests are running – member of local running club, Pilates, knitting and jigsaws!! Plus flying the flag for the Samson Centre with many fundraisers involving selling knitting goods, jigsaws and running race sponsorships.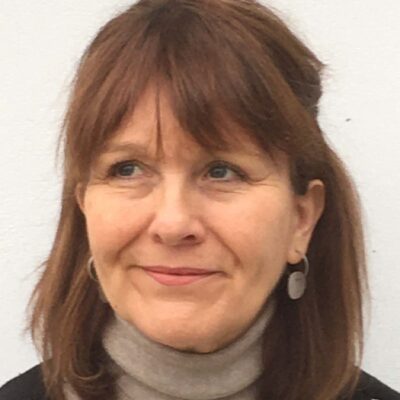 Judy Reynolds
Oxygen operator
I've enjoyed volunteering at the Samson Centre since July 2020 after retiring from a lengthy career in TV and music.  The Samson Centre is such a great resource. The clients are lovely and my fellow colleagues are a delight to work with. I'm more than happy to have swapped press deadlines and the London commute for exploring the Surrey countryside with my dog, family and friends.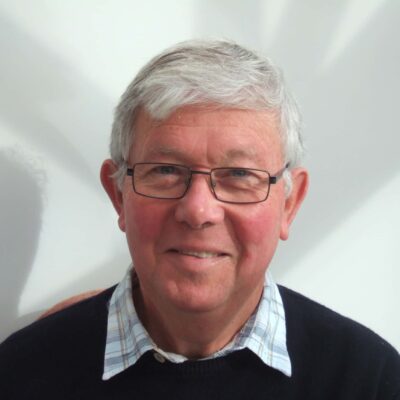 Mike Houchin
Lead Oxygen Therapy Operator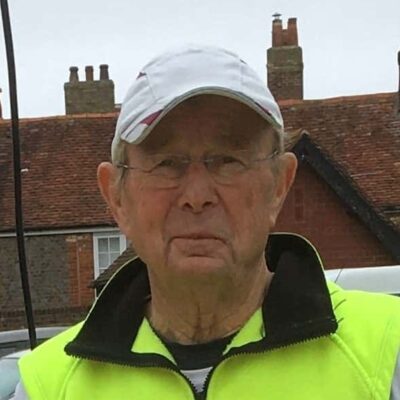 Robert Hall
Lead Oxygen Therapy Operator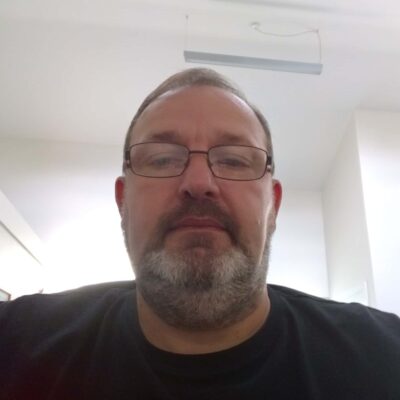 James Gregory
Oxygen operator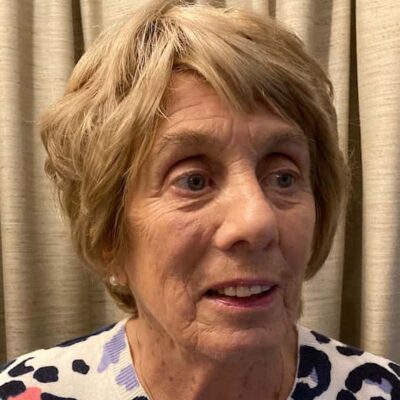 Carole Morris
'Meet and Greet' & Kitchen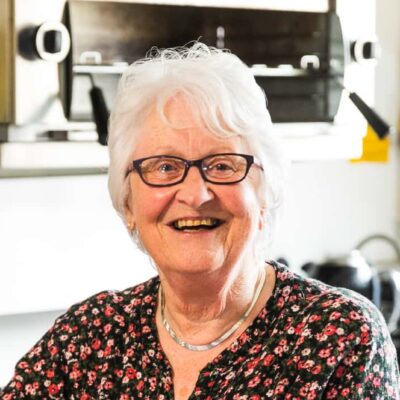 Gilly Denyer
'Meet and Greet' & Kitchen
I have been volunteering at The Samson Centre for MS for over 15 years and it is something I still look forward to every week.
It is a pleasure to be there to welcome the members attending for their treatments and to make teas and coffees for them and their carers in such a lovely social environment.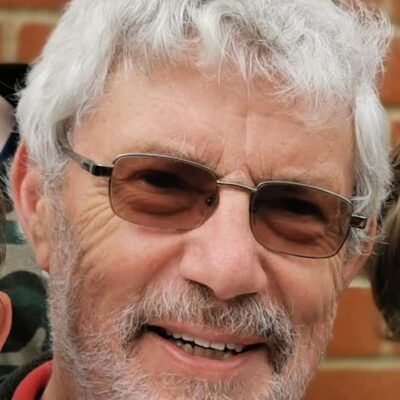 John Steeds
Maintenance & Gardening
"Having been involved in numerous aspects of our MS group for about 30 years, from the days when it was a part of ARMS, then when it was the MSTG (Multiple Sclerosis Therapy Group, Guildford), and now as the Samson Centre, as my late wife had long standing MS, I am only too pleased to help in any way possible".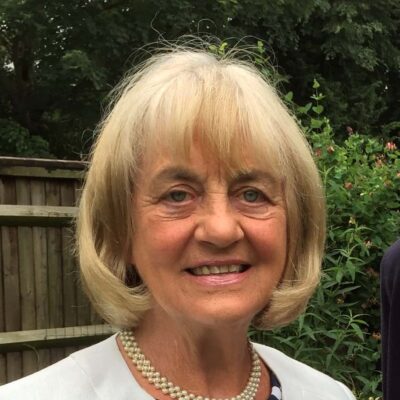 Carol Kitching
Banking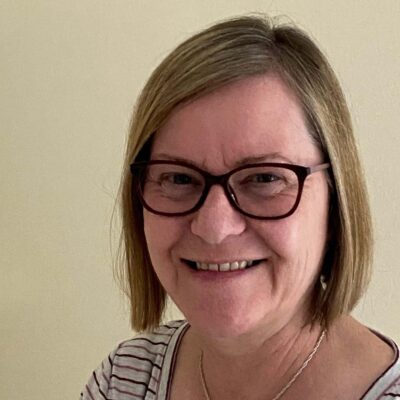 Trisha Duckworth
Oxygen operator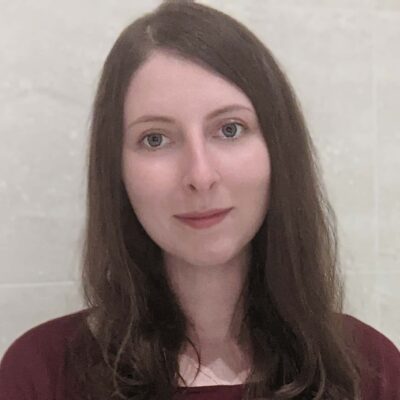 Sarah Bell
Oxygen operator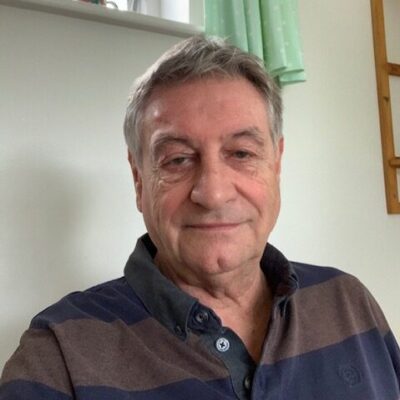 David Whitaker
Lead Oxygen Therapy Operator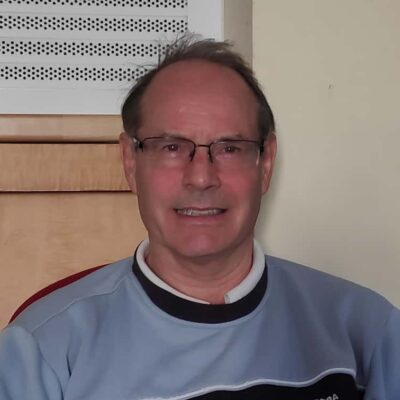 Richard May
Oxygen operator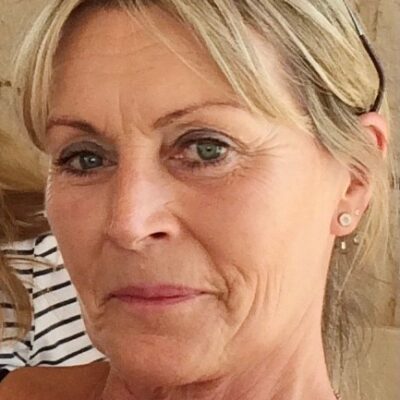 Jane Lyne
Oxygen operator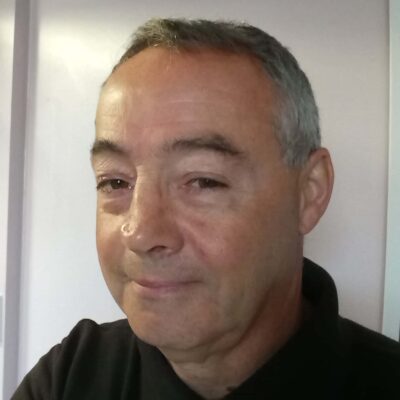 Duncan Howe
Trustee / Lead Oxygen Therapy Operator
I have been involved with the Samson Centre right from the beginning. Being a member of Guildford Sub-Aqua Club who use the Waterside as their club house and boatshed I wanted to give something back. So I became an Oxygen operator , learning to become a 2nd and then a Lead Operator. I now carry out the practical training of new Oxygen volunteers.
I have been self employed for the last 15 years running my own driving school that specialises in trailer training, D1 Minibus & D1E Minibus and trailer categories.
My passion is Scuba diving and I have dived all over the world – from Bognor reef, Scapa Flow, Ice diving in Russia, The Great Barrier reef, Indonesia, Galapagos Islands and Selsey Bill.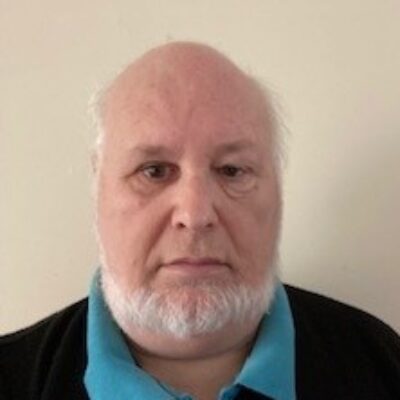 Ross Ludgate
Lead Oxygen Therapy Operator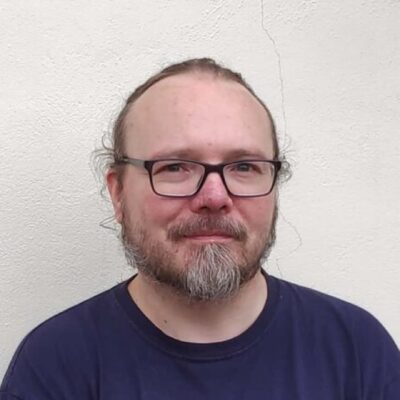 Peter Purnell
Website content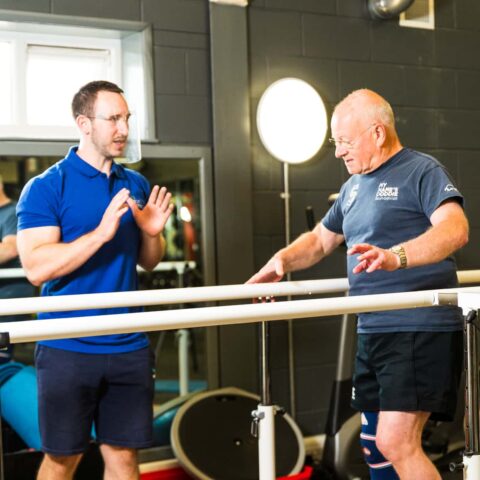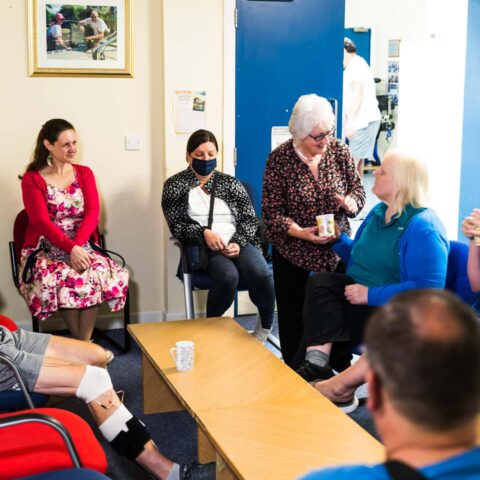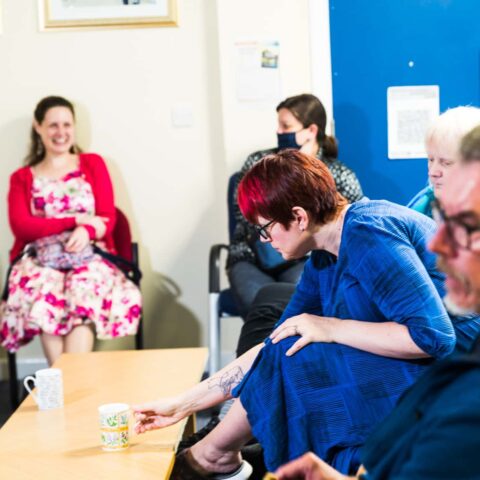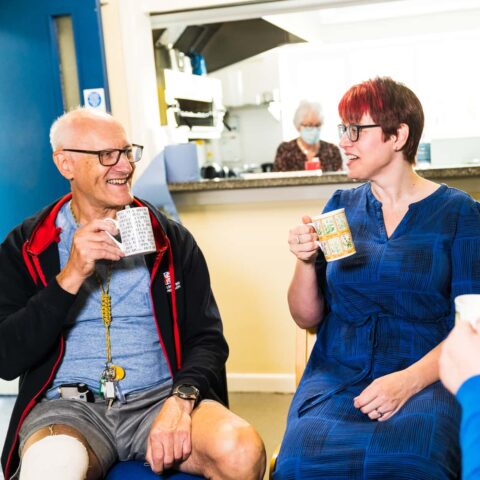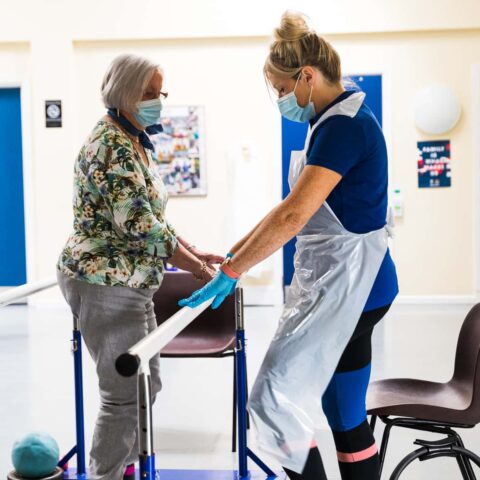 "Specialist staff really understand the nuances of the condition."
"Set up by people with MS for people with MS."
"Like an extended family"
"Inspirational members, great team and loyal volunteers and trustees."
"There's an energy to the place, you can see the effort people go to."
Why not become a volunteer?
We are always looking for enthusiastic volunteers to join our team, so if you have some time to spare, we would love to hear from you.